Nature Itself. What Greater Extravagance.
Ukiha no Akari
scroll down
What's Ukiha no Akari?
A stay in the mountains is a chance to experience a fleeting moment in a beautiful landscape that has been nurtured over hundreds of years.
A chance to receive blessings from the land, and to feel on your skin the changing of the seasons. Nature itself.
What greater extravagance. Our accommodation facilities are located in two mountain villages in Ukiha.
Each of them is based on a different concept, but what they have in common is that they are the perfect place to base yourself for your stay in the area.
Come and enjoy the scenery. You'll soon fall in love with it.
Kojio-no-Sato and Tagomori-no-Sato:
Located Deep in the Mountains of Ukiha City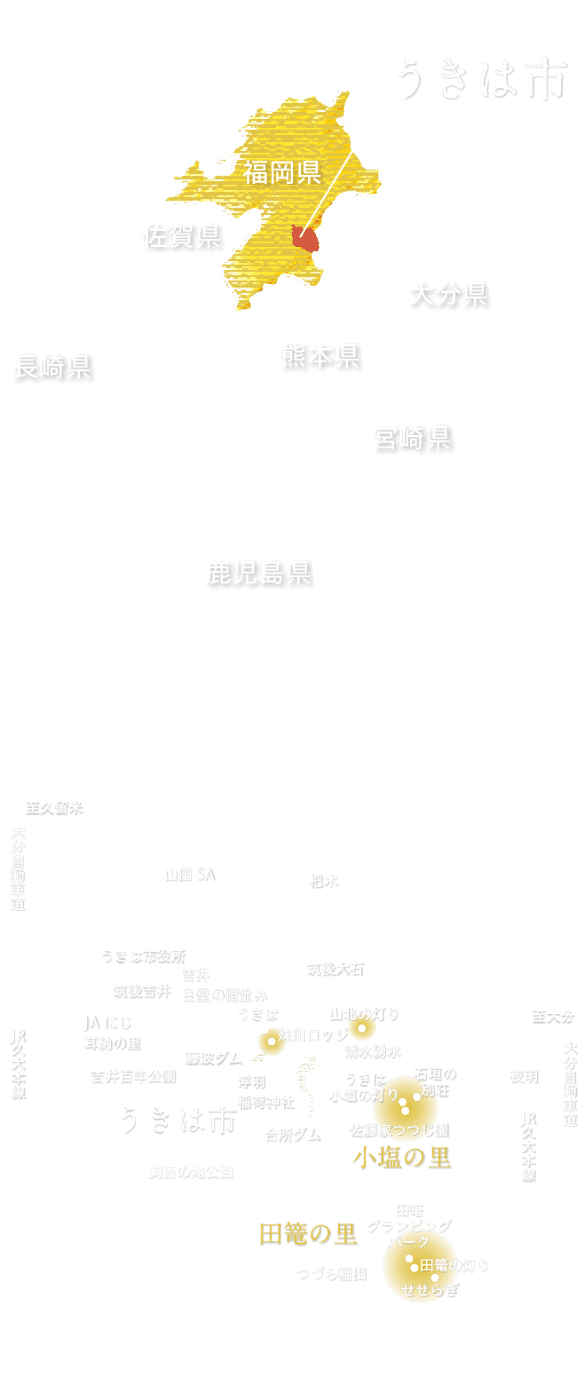 Ukiha is a city where much of the old and best mountain scenery remains.
The number of new tourist attractions, such as general stores and cafés,
is increasing and the area is gaining more attention.
In fact, now there are so many attractions
for those with a sweet tooth or who are looking for gourmet food,
that you would be hard-pressed to get around the entire area in a day.
"Ukiha" is a fruit kingdom
Ukiha is also a Fruit Kingdom that produces fruit all year round.
Here you will find exceptionally delicious fruit such as strawberries, grapes, peaches and persimmons.
The area is also famous for cafés with delicious sweets featuring local fruit,
and there are also plenty of places where you can pick your own.
Strawberry

Blueberry

Grape

Peach

Pear

Persimmon
Enjoy the Three Hot Springs

in the Ukiha Area
From Ukiha-no-Akari you can also go on a day trip to a hot spring,
with the closest being Chikugogawa Onsen, Harazuru Onsen, and Yoshii Onsen.
Any of them can be reached by car within 15 to 20 minutes,
and each of them charges about ¥500 per person.
If you love hot springs, then we highly recommend them.
Ukiha-no-Akari Facilities
Reservations will be accepted in mid-April. Please wait for a while until the facility opens.

UKIHANO AKARI site has been renewed